Kendo Basics Series: Introduction to Tandoku Dosa (Solo Training)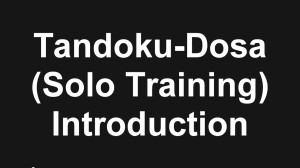 This kendo video tells you why those dantoku dosa (solo training movements) are important.
Tandoku means single or solo.
Dosa means movements.
So tandoku dosa means movements that are done by a single person. We have a training method called Sotai Dosa, which means a pair work.
Basically all the movements showed by this far are the solo movements but from this time actual "cutting motion" is involved.
So watch this very short video and understand why it is important to go over tandoku dosa.
Kendo Basics III: Tandoku Dosa Intro