Thank you, patrons!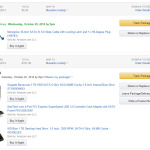 Thank you for my patrons, I could purchase extra internal hard drives for my main computer and sub computer.
My main computer (purchased 2009) is still working fine but it was getting slower and used up its hard drive space of 750 Gb. So I decided to have another internal drive to store kendo video files.
My sub computer, one of my student gave it to me because he was not using it anymore, had only 80Gb. He gave it to me so I could turn my main computer into a video editing machine. But I found that installing Windows 7 would up almost half of it, so I decided to get a new internal hard drive for my sub computer.
I am still waiting for a cable to connect this new hard drive to my computer and it should be arriving today! Then the main computer will be dedicated to video editing, hopefully!
My next aim is to get external drives so I can back up my kendo videos twice!
Thank you again for supporting me!