Kendo Basics Series: The Foundation of the Basic Footwork: Suri ashi and Okuri ashi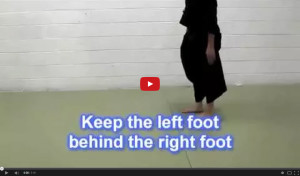 This kendo instructional video  introduces 2 types of basic kendo footwork or ashisabaki, that is suriashi and okuriashi.
As mentioned in the previous video on the basic footwork, suri-ashi must be performed well by all the kendo practitioners. Then you must study okuri-ashi thoroughly.
Do not underestimate this. If you cannot do this, you cannot enjoy kendo!
The points you have to pay attention to:
Get the hang of suri-ashi
Be patient. If you cannot do this well, you cannot do kendo!
Learn okuri-ashi. Do it slowly first and gradually make it faster
Gradually speed up so you won't drag your feet
Practice, practice, practice!
The footwork is
more important than learning how to cut

in kendo.
The Foundation of the Basic Footwork