Kendo Basics Series: Tandoku Dosa: Zenshin Kotai Shomen Uchi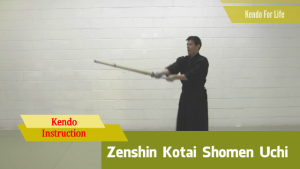 These kendo instructional videos introduce zenshin kotai shomen uchi and some important points. Zenshin means "going forward". Kotai means "going backward". Shomen means the middle forehead in this case.
After learning zenshin kotai joge buri, this should be easier but please remember the points you should keep in mind.
Some points you must pay attention:
The most important: Coordination. When going forward onto the right foot, lift up your hands up above your head. When going backward, lift up your hands above your head
Keep your strikes big. It is so common that the strikes of beginners become smaller because they now have to pay attention to more than one thing.
Do it slowly until you get the coordination right.
Now watch the video to learn it in detail!
Kendo Basics Series: Tandoku Dosa: Zenshin Kotai Shomen Uchi
Kendo Basics Series: Zenshin Kotai Shomen Uchi: Important Points