Kendo Basics Series: Tandoku Dosa: Zenshin Kotai Sayu Men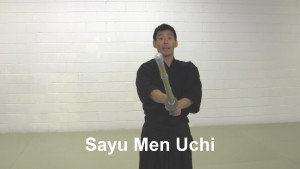 This kendo instructional video introduces zenshin kotai sayu-men and some important points. Zenshin means "going forward". Kotai means "going backward". Sayu means the right and left so sayu men means the right and left forehead.
You will learn the really important basics called Kirikaeshi later on and this sayu men is a very important part of it. So study this thoroughly.
Some points you must pay attention:
The most important: Keep your left hand as center as possible. 
When striking the right right men of your opponent (your left), pay special attention to the blade. Many does not have a good angle.
Learn the making the right angles with your sword
Now watch the video to learn it in detail!
Kendo Basics Series: Tandoku Dosa: Zenshin Kotai Sayu Men