Kendo Basics Series: Tandoku Dosa: Ni Dan Waza 2: Kote oyobi Men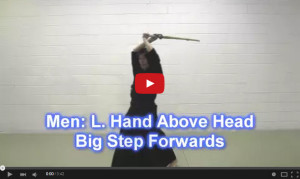 This instructional video introduces Kote oyobi Men that is another Ni Dan Waza.
As you have learned Niho Zenshin Niho Kotai Shomen Uchi, you should be able to do this quite easily. It is because you just have to strike kote instead of men at the first strike.
This should be easier than Niho Zenshin Niho Kotai Shomen Uchi, but since you feel it easier, it is also easier for you to make mistakes. That is why you have to pay extra attention to your own strikes.
Some points you must pay attention:
For kote strike, take a smaller step forward.
Take a big step forward onto the right foot when striking men.
When striking kote, make sure that you are striking your opponent kote. People tend to strike a higher place than the actual kote height.
Now watch the video to learn it in detail!
Kendo Basics Series: Tandoku Dosa: Ni Dan Waza 2: Kote oyobi Men