Kendo Basics Series: Tandoku Dosa: Naname Joge Buri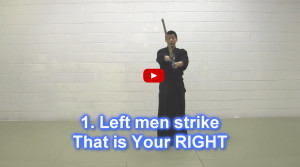 This kendo instructional video introduces naname joge buri or sayu joge buri. Naname means diagonal. Sayu means "left and right". Where I learned the term, naname joge buri, was used but I noticed that some people say "sayu" joge buri so I am listing two terms here.
It is wise to take your time to learn this movement because it will save time in the future and also you will realize how hard it is to perform this with kote (gloves) on.
Some points you must pay attention:
The most important: the left hand does not swing off the center. Try to keep it on the center of your body.
Have your left hand up above your head. By focusing on keeping your left hand center of your body, you will forget about lifting your hand above your head.
Pay attention to the angle of your sword. Without the blade on the right angle, you cannot cut.
Now watch the video to learn it in detail!
Kendo Basics Series: Tandoku Dosa: Naname Joge Buri