Kendo Basics Series: Sonkyo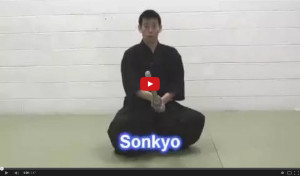 In this kendo instruction video, you are learning how to sit it sonkyo. Sonkyo is unique to kendo and also sumo. It is a part of greetings so please do it right. I understand it is hard to do. But just take your time.
Some points for you to accomplish sonkyo:
Don't lean forward when you sitting down
Don't learn backward when sitting down
Keep the knees apart when sitting down
Try to sit on your heels
Keep the balance
Please watch the video below and join the Free Online Kendo Basics Course for more instructions.
How to Sit in Sonkyo