Kendo Basics Series: Introduction of the Basic Feet Positions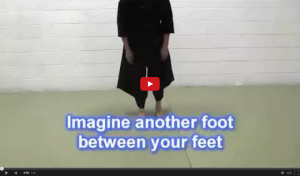 This kendo instructional video shows the basic feet position.This is the start of your footwork so study and keep finding the best position for you.
The positions of your feet are very important since that is the point your movement starts. So if you don't have the right foot position, your movements will be very clumsy.
Some points for you to have a good feet positions:
Have your feet apart from each other so you can be well-balanced (see the video)
The right heel and the left toes should be on the same line or a little closer to each other (having them apart too much is not suitable for those who cannot jump far)
Must study where your feet should be for you to move smoothly but remember the what you should and should not do.
Please watch the video below and join the Free Online Kendo Basics Course for more instructions.
Introduction of the Basic Feet Positions