Kendo Basics Series: How to Take the Basic Stance of Kendo: Chudan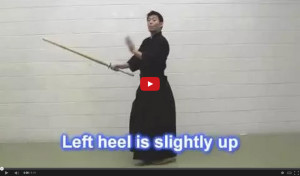 In this kendo instruction video, you are learning how to take the basic stance of kendo, chudan.
Chudan means the mid level; "chu" means middle and "dan" means level.
It is considered to be the basic stance because you can attack and defend more easily compared to other stances.
Some points for you to have a good chudan:
Do not lift the left heel too high
Don't bend the back of your left knee (the back of the knee is called hikagami in Japanese)
Pay attention to the centre of the gravity
Do not lean on your left leg (very common)
Do not stick out your stomach
Please watch the video below and join the Free Online Kendo Basics Course for more instructions.
How to Take the Basic Stance of Kendo:Chudan