Kendo Basics Series: How to Line-up at the Dojo in Kendo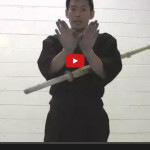 This is how we line up at the dojo at the beginning and end of the training. I am not sure if you have a dojo to go to or you do not have one because there is no dojo in your city.
Either case, it is very important for you to learn what happens before and after training.
Please do learn these things because etiquette is very important in kendo. Enjoy learning!
Please watch the video below and join the Free Online Kendo Basics Course for more instructions.
Introduction and how to Line up in kendo