Kendo Basics Series: How to Finish up Training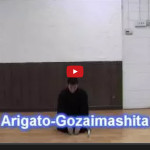 In these kendo instruction videos, you are learning how to finish up training. Once you learned how to begin, it is much easier.
The main differences are
1. Bowing order is different. This time you bow to sensei first.
2. We say "arigato-gozaimashita" instead of "onegaishimasu"
Please watch the video below and join the Free Online Kendo Basics Course for more instructions.
Finishing up in Detail
Finishing up at a Glance