Kendo Basics Series: Hiraki Ashi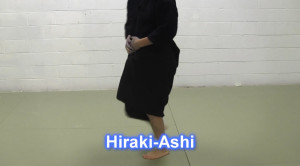 This kendo instructional video introduces footwork called hiraki-ashi.
This footwork is also advanced like tsugi-ashi but this is good footwork to learn coordination.
The points you have to pay attention to:
Do not cross your legs after each movement
Always come back to the beautiful stance
Do not drag your feet
Do not go up and down while moving
Pay extra attention to footwork and coordination.
The footwork is
more important than learning how to cut

in kendo.
Footwork: Hiraki Ashi