Kendo Basics Series: Beginning of Training at a Glance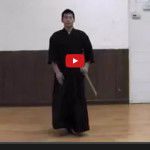 In this kendo instruction video, you are putting everything you have learned together. So far we have gone through individual movement/etiquette and now we have to do it smoothly. It is time for "dots to become a line".
Each dots must be done properly. This is the hard part. We, human, tend to be lazy and do not do things properly after we learn them. Here comes the discipline!
Be patient and do it properly.
Please watch the video below and join the Free Online Kendo Basics Course for more instructions.